Love Quotations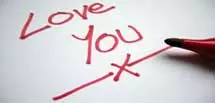 While Love Fate Destiny tries to provide a love quote for everybody in every romance situation, there are bound to be some of us that are left disappointed over what they can't find on this site. Right? Wrong! If you can't find the love quote you want in the other sections, the chances are you can find them here as this section contains love quotes for loads of generic purposes such as for the latest social network. Enjoy!
Quotes By Genre
Beautiful Love , Cool , Facebook , Good , Happy , Heart , Long Love , Love Poems , Love Icons , Love Sayings , Love Text , Morning , Msn , Myspace , Nice , About Love , About Life And Love , Short Love Quotes , Simple Love , Small Love , Time , What Is Love , Wise , Xanga
Love Quotations Teasers
The most dangerous thing
a man needs is a woman.
Hatred stirs up dissension,
but love covers over all wrongs.
Proverbs 10:12
If love is shelter,
I'm going to walk in the rain.
An old man who marries a young wife grows younger
- but she grows older.
Love makes a man both blind and deaf.
A wise man should have money in his head,
but not in his heart.
The bad things in life open your eyes to the good things
you weren't paying attention to before.
The man may be the head of the home
but the wife is the heart.
Love is all encompassing,
it can give your heart everything
it never knew it could have
and take away more
than you knew it contained.
Reviews or comments on Love Quotations