Love Fate Destiny
Collection of Love Poems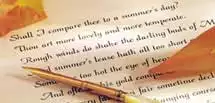 Expressing your love in fine poetry helps to melt even the coldest heart. Do it right and you gain instant points with the fair lady or fine gentleman. However, doing it the wrong way often results in the opposite effect. Read through the love poems in this section and learn how to express your love the right way!
Romantic Genre
Anniversary , Beautiful , I love you , I miss you , For the one you love , Relationship , Romantic ,
More poems under Romantic genre...
Sweet Genre
Heart , For her , For him , Sweet , Husband , For boyfriend , For girlfriend ,
More poems under Sweet genre...
Cute Genre
Cute , Funny , Marriage , For a girl , Short love , Valentines day , Wedding ,
More poems under Cute genre...
Sad Genre
Break up , Broken heart , Emo , Heartbroken , Make you cry , Sad,
More poems under Sad genre...
Famous Genre
Best love , Famous poems , Inspirational ,
More poems under Famous genre...
Other Love Poetry
Erotic , Goodbye , About love , Love , On love , Sex , Sorry ,
More poems under Other Poetry genre...
The Music In My Heart
Many songs have passed my precious time
But none of them have touched this heart of mine
Except one that always plays in the wind
And put melody on my life
You are the music of my heart
The signal that sets my life to start
The melody that illuminate my day
And rhythm that colors my sky
I know this sweet sound wouldn't last
And this moment will be put into past
Till the music be played with discord strings
Till there's no more notes that sings
The love fades out and shrivels
Now in this corner I am crying
The sweet sound is still playing
As I listen to my heart singing
And I will always remember
That you are the reason why my heart's hurting
Reciel Tanaid
Reviews or comments on Love Poems