Love Fate Destiny
Collection of Love Pictures and Love Pics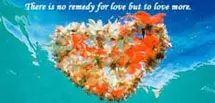 As a short extension to our love quotes section, we have provided a series of romance related pictures with suitable love quotes on them. Feel free to browse through them and send them to your loved ones if you like it!
We also welcome contributions from our visitors. Please post your love pictures on our facebook wall at Love Fate Destiny Facebook and we will add them to our website on our next update subject to suitability. Share your love picture with Love Fate Destiny!
Featured Above
Adorable Pictures By Genre
Broken Heart , Cute , I Love You , Love Quotes , Romantic
Pictures Featuring Loving Couples
Dating , Lovers , Romance , Valentine
Reviews or comments on Love Pictures