Love Sayings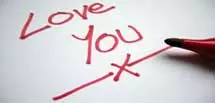 Are you ready for some humor relating to love and romance? Be it cynical, cheesy, cheeky or just plain fun humor about love, Love Fate Destiny is your ultimate destination for laughs. Love will never be just deep serious solemn love again.
Quotes By Genre
Anti Love , Boyfriend , Cheesy , Corny , Couple , Cute , Dating , Flirting , Flirt , Flirty , Funny , Girlfriend , Husband , Kissing , Kiss , Little Love , Married , Relationship , Sarcastic , Sex , Sexual , Sweet , Wife
Funny Love Sayings
I want to drink from your loving cup
Swear I'll never give you up
Steal all your kisses underneath the moon
I want to lie here close to you,
Look at what you made me do!
Darling you're the reason why
I drink, swear, steal and lie
I was dating this girl for two years
- and right away the nagging starts:
I wanna know your name.
My grandmother's 90.
She's dating.
He's about 93.
It's going great.
They never argue.
They can't hear each other.
Sex without love is merely healthy exercise.
No relationships can work
until a boyfriend
can understand every word
that the girlfriend is NOT saying
My boyfriend calls me 'princess',
but I think of myself
more along the lines of
'monkey' and 'retard'.
Army wife… the toughest job in the military.
Reviews or comments on Love Sayings