Online Stories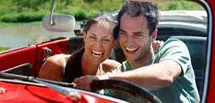 Title - The Scorecard
Description - Do you keep a scorecard when in love? Don't you know what it means? Read on to find out.
Title - A Short Love Story In Stop Motion
Description - Our first love story in a video format by the famous Carlos Lascano.
Title - My Happy Ending
Description - A beautiful love dedication to the author's wife.
Title - A Hole in Your Fence
Description - Do you have problems controlling your temper? This story will help you greatly.
Title - The Words Unsaid
Description - Never leave words unsaid.
Title - Ruby's Roses
Description - Imagine having to work on your scariest neighbour rosebushes every summer. That's the price the author had to pay after destroying her neighbour's rosebush. However like always, there will be a sweet ending for the neighbours.
Title - Love and Marriage
Description - The difference between love and marriage.
Title - The Poor Rich Boy
Description - Who being rich is poor? One little rich boy found out how poor he actually is after a trip to the countryside.
Title - The Little Hero
Description - Gratifying story about a handicapped child who was made hero of the day.
Title - Love, Wealth and Success
Description - Among love, wealth and success, which would you prefer? Check out which is the wisest choice of them all.
Title - Our Happy Home
Description - Dark story about a mistaken love. Not for the faint hearted.
Title - Sixty Days
Description - To many people, sixty days with a loved one is not enough. For Michael, it was everything he could have and he treasured every moment of it.
Reviews or comments on Online Stories