Love Phrases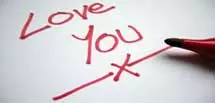 Love Fate Destiny has compiled a list of quotes for unique love situations one might get caught in love. While this list of quotes is not comprehensive, it covers everything from the intial sparks of love in first love to the sweetness of being in love as well as the heartbreak of being out of love or unrequited love. At Love Fate Destiny, there is a love quote for everyone!
Quotes By Genre
Being In Love , Crazy Love , Faith Hope , First Love , Forbidden Love , Free Love , Goodbye , Lesbian , Let Go , Letting Go , Live Laugh Love , Love At First Sight , Love Is Like , Move On , Moving On , New Love , One Sided Love , Over You , Secret Love , Sorry , Trust , Unconditional Love , Unrequited Love , Waiting For Love
Unique Situations Love Phrases
If you don't design your own life plan,
chances are you'll fall into
someone else's plan.
And guess what
they have planned for you?
Not much.
You promised me forever,
i guess we both had
a different definition of forever.
Every breath is an opportunity to receive and let go.
I receive love and I let go of pain.
Women are like apples on trees,
the best ones are at the top.
The men don't wanna reach
for the good ones because
they're afraid of falling and getting hurt.
Instead they just get the rotten apples
from the ground
that aren't as good but easy.
So the apples at the top
think something is wrong with them
when in reality they're the amazing ones.
They just have to wait
for the right man to come along,
the one who's brave enough
to climb all the way to the top of the tree.
If you want your life
to be a magnificent story,
then begin by realizing
that you are the author
and everyday you have
the opportunity to write a new page
Holding on to anger is like
grasping a hot coal with the intent
of throwing it at someone else;
you are the one who gets burned.
Sometimes the best thing,
is knowing when to walk away.
Reviews or comments on Love Phrases