Romance Stories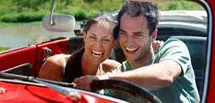 Title - Yukiko
Description - A plain Singaporean guy falls in love with a pretty Japanese girl. Find out whether it ends up with a happily ever after.
Title - A Diary from a Guy
Description - The diary of a guy who is tormented by love.
Title - Mad at You
Description - This story teaches us not to get angry at our loved ones for no rhyme or reason or it can become the biggest mistake we ever make.
Title - There is Always a Silver Lining
Description - Read about how a girl was given a silver lining when everything seems dark and gloomy.
Title - She was Not Beautiful
Description - Are there many plain faces around you? Look carefully to find the best looking person among them…
Title - The Wedding Vows
Description - Not everybody can keep to their wedding vows. However, it doesn't mean that we break them on purpose too. Read the most touching wedding vows ever written here.
Title - Unlucky Love
Description - One guy thought he would always be unlucky in love until one Valentine's Day, where his luck changed for the better.
Title - Red Lipstick Kisses and a Black Eye
Description - Try combining red lipsticks with a black eye for a magical evening of romance!
Title - Love and Romance
Description - Sweet story that clearly portray the difference between love and romance in a relationship.
Title - A Great Life
Description - Find the ingredients you need to live a great life here!
Title - Reason for Love
Description - Most guys dread to hear the question, "Why do you love me?" Read the perfect answer in this story.
Title - Thinking of You
Description - Death is a phase which everyone goes through but the love remains strong in the hearts of those who remain. In some cases like this story, the love will continue to burn strong forever, even in death.
Reviews or comments on Romance Stories