Life Stories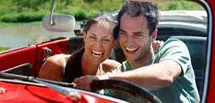 Title - Never Mind, There's Tomorrow
Description - Treasure tomorrow and don't live a life of regrets.
Title - Abortion in Ears
Description - Entertaining real life story about how to get an abortion done in the ears.
Title - Hold My Hand
Description - What's the difference between you holding my hand or me holding your hand? Read on to find out about the deep underlying difference between the two that most people failed to notice.
Title - My Little Brother
Description - The best lesson in life a sister can learn from a little brother.
Title - Real Love
Description - Another important lesson on real love taught by a little child.
Title - Honk If You Love Jesus
Description - A grandmother pasted the sticker, "Honk If You Love Jesus" on her car and was greeted with an extremely enthusiastic response from the people around her.
Title - Pure Blood
Description - Put yourself in the shoes of a father in a catastrophe and see how does the world react in this moving Christian story.
Title - Do You Love Me?
Description - Do you really love the lord as much as you think you do? Find out here now!
Title - My Happy Ending
Description - Nice love story about how God arranges our lives in such a way that every time something good falls apart, it's because something better can fall together.
Title - The Pearl Necklace
Description - Another beautiful story about how God will never take away something without giving us something better in its place.
Title - Satan's Evil Plan
Description - The unveiling of Satan's master plan to prevent humans from seeking the grace of God.
Title - Your Friend, God
Description - Take some time to read God's letter to help restore the missing faith in us.
Reviews or comments on Life Stories