Sad Stories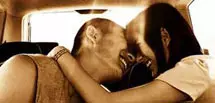 Title - Love is
Description - What is love? Most people spend their lifetimes looking for it only to understand what love is when they lose it.
Title - Chris Diary
Description - Popular online love story about self sacrificial love that leaves many readers heartbroken.
Title - Letting Her Go
Description - Does loving someone means that we should let go of them when they want it? Read about why we should not let our loved ones go just because they requested to.
Title - The Love Letter
Description - The most heartbreaking love letter you can ever read.
Title - A Racer's Anniversary
Description - Anniversaries are important to all lovers. That is unless you're a racer. Or is that really the case? Read on to find out more.
Title - "I Love You"
Description - A sad Korean love story that encourages us to always say words that are left unspoken or it might be too late.
Title - True Love Never Has an Ending
Description - Warning: There is no ending to this story. Fairytales are wrong when they say "And they lived happily ever after". True love never has an ending...
Title - What I Did For Love
Description - Highly popular story by Val involving many parts as a young woman seeks for love. Be prepared to spend at least thirty minutes to read the entire story as it is extremely long. Although a romantic story in nature, it leaves many readers with a heavy heart at the end of it.
Title - Let me Love You
Description - Can love wait? Sometimes, material comforts are not what love really needs. Love needs time and effort and that is exactly what the main lead lacks.
Title - The Ring
Description - Would you give up your wedding ring for anything in this world? One girl wouldn't and the token of love from her beloved led to tragedy.
Title - The Missing Rib
Description - God saw that Adam was lonely. Hence, when Adam was sleeping, God took one of his ribs and created Eve. Ever since then, every man has been searching for his missing rib. This tragic story is about how a man found his rib only to realize that it was a case of too little too late.
Title - Undestined Love
Description - People reading this story may think that what the author did was not right and she understands it too. However, that did not stop her from falling in love with one of her students.
Reviews or comments on Sad Stories