Love Stories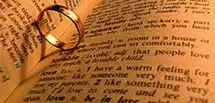 Title - Both Halves of My Heart
Description - A peculiar arrangement by fate helped a woman find love not once but twice in a diner where she worked at.
Title - My Happy Ending
Description - Nice love story about how God arranges our lives in such a way that every time something good falls apart, it's because something better can fall together.
Title - I'm Sorry I Lied
Description - A valuable lesson on why we should never lie to those closest to us.
Title - Always by my Side
Description - Is it a good idea to go through thick and thin with your partner? Read this funny story and think again.
Title - Love is
Description - What is love? Most people spend their lifetimes looking for it only to understand what love is when they lose it.
Title - The Love Letter
Description - The most heartbreaking love letter you can ever read.
Title - Eternal Regrets
Description - If you like someone, tell them. Don't wait until it's too late as it may lead to a life of eternal regret.
Title - Chris Diary
Description - Popular online love story about self sacrificial love that leaves many readers heartbroken.
Title - A Short Love Story In Stop Motion
Description - Our first love story in a video format by the famous Carlos Lascano.
Title - Shmily
Description - Fill your heart with heart warming sweetness through a loving old couple in this true love story.
Title - Love's Song
Description - One of the best love stories to be submitted by a reader. Sad and tear jerking at times, this is an ideal story for uncovering the hopeless romantic in you.
Title - A Great Life
Description - Find the ingredients you need to live a great life here!
Title - The Scorecard
Description - Do you keep a scorecard when in love? Don't you know what it means? Read on to find out.
Title - The Hardest Thing I Had to Say
Description - What's the hardest thing you ever have to say? Let free of our feelings before it's too late.
Reviews or comments on Love Stories