My Stories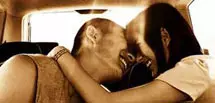 Title - The Love Connection
Description - True story about how a pair of soul mates met and connected from the very first day
Title - Information Please
Description - Never underestimate the impression you may make on others as it will affect them for the rest of their lives.
Title - Engraved in His Heart
Description - Who do you think of when caught between the moments of life and death? Let this sweet story show you the answer.
Title - Always You
Description - Lovely story about how destiny always leads us to the person we are supposed to be with.
Title - Follow Your Heart
Description - A simple rule to follow for people who are in love.
Title - Interpretation
Description - An interpretation of how boys and girls view love.
Title - The Phone Call
Description - Be careful who you call on the phone or it might end up in laughter and perhaps love.
Title - Sweet Chocolate
Description - Chocolate helps the brain to release endorphins making us happy. In this case, it also leads you to a new love.
Title - My Crush
Description - Lovely story about how a crush develops into a serious love.
Title - The Talk
Description - Cute and adorable talk between a teenage couple.
Title - Day I Noticed
Description - Sweet memory of an innocent first love.
Title - Without Words
Description - Magical tale about how a girl found love from the most unexpected source only to lose it ultimately.
Reviews or comments on My Stories