Cute Poems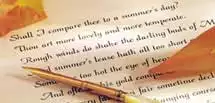 The poems in this section incorporate fun and humor into ordinary love poems. Who says love must always be a matter of life and death and other serious stuff?
Poems By Genre
Cheesy , Cute , Engagement , Funny , Kiss , Love friendship , Love is , For a boy , For kids , Marriage , For a girl , Rhyming , Short love , Simple love , Small love , Teenage , Valentines day , Wedding
All We Need Is Love
We shall dance the night away,
No matter what people say.
Secret places we have found,
In your arms i'm bound.
You'll kiss me tenderly,
Our love we share deeply.
If only everyone knew,
We share a love that's true.
Tomorrow we meet with friends and family.
I'll announce my intentions to marry thee.
Mouths will drop and eyebrows will rise.
We'll have created a huge surprise.
Mom and dad will surely moan.
Brother ted has troubles of his own.
Aunt shirley will wish us well.
Carol will say "go to hell".
We look at each other and all we see,
Is the love we hold inside.
We have no color, black or white.
All we need is love to survive.
Eboneee
Reviews or comments on Cute Poems