Funny Stories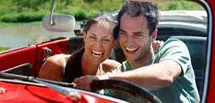 Title - Always by my Side
Description - Is it a good idea to go through thick and thin with your partner? Read this funny story and think again.
Title - The Hangover
Description - Learn what to say the next time you become drunk and have a hangover.
Title - Arithmetic of Love
Description - Did you think that all men are better at math? Think again after reading this hilarious story.
Title - Husband Mart
Description - Want to get a husband quickly? Get him at husband mart and learn the profound meaning behind it.
Title - Bad Butler
Description - Funny story about what happens when you hire the wrong butler.
Title - A Wish from God
Description - A man was granted a wish by God. He wished to understand woman better. Guess what did God say? Read on for a good laugh.
Title - What do Women Want?
Description - The ultimate question of all time. This time, we have the right answer and more laughter for you as well.
Title - Will Power
Description - A young couple's will power to control their urges is severely tested by a minister of a church. Will they stand up to the challenge?
Title - MateMatch
Description - Funniest story ever. Enough said.
Title - I Want a Divorce
Description - Be careful what you asked a woman for!
Title - Miracle of Toilet Paper
Description - Ever heard about the miracle of toilet paper? They might substitute plastic surgery in future if you believe the husband in this story.
Title - Lemonade and a Love Story
Description - Sweet love story about a old man and his beloved.
Reviews or comments on Funny Stories