Touch Story
Ladder of Love Part 1
Ladder of Love Part 1 | 2
An incredible love story has emerged from China recently and managed to touch the world. It is a story of a man and an older woman who ran off to live and love each other in peace for over half a century.
The 70 year old Chinese man hand-carved more than 6,000 stairs up a mountain for his 80 year old wife and has passed away in the cave which has been the couple's home for the last 50 years.
More than 50 years ago, a 19 year-old Liu Guo Jiang fell in love with a 29 year-old widowed mother named Xu Chao Qin.
(Read Related : Romeo and Juliet Quotes)
In a twist worthy of Shakespeare's Romeo and Juliet, friends and relatives criticized the relationship because of their age difference and the fact that Xu already had children.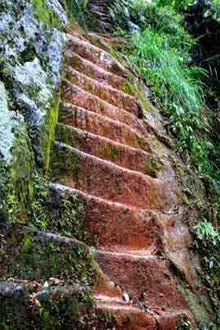 At that time, it was unacceptable and immoral for a young man to love an older woman. To avoid the market gossip and the scorn of their communities, the couple decided to elope and lived in a cave in Jiang Jin County in Southern Chong Qing Municipality.
In the beginning, life was harsh as they had nothing. There was no electricity or even food. They had to eat grass and roots they found in the mountain and Liu made a kerosene lamp that they used to light up their lives.
(Read Related : Romeo and Juliet Poems)
Xu felt that she had tied Liu down and asked him repeatedly, 'Did you ever regret?'
Liu always replied, 'Life will improve as long as we are industrious.'
Ladder of Love Part 1 | 2
Reviews or comments on Ladder of Love