Romantic Gifts For Him
Personalized And Engraved Gifts
Guys like sleek metal objects or soft leather accessories that will look great with them. Give them a personal touch with a short engravable message and its the perfect gift! Engravable keychains, moneyclips, mugs photoframes, clocks, desk and pen sets make examples of sleek gifts. For leather accessories, leather products like wallets, laptop bags, business card cases or portfolios help add a professional touch to their appearence while serving their purposes at the same time.
Personalized Jewelery For Him/Her
Make it personal - engrave and personally select designs of jewelry and accessories to create the perfect heartfelt gift or personal keepsake, engraved by professional engravers, guaranteed by Shimmer & Stone. Choose the perfect gift from from Necklaces, Bracelets, Earrings, Rings and Cufflinks.
(Read Related : Romantic Ideas)
Titanium Rings
If Silver and Gold jewelry do not really match his image, why not get him a tough metal jewelry such as Titanium rings? Titanium is used to make aircraft parts because it is strong, light and durable. With such strong masculine chracteristics, this is surely one gift he will not be embarrassed to wear.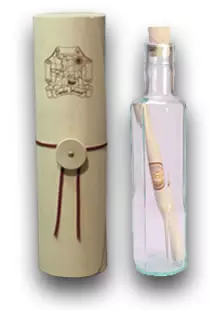 Timeless Message - Message in A Bottle
When cards and flowers are not enough, get a message in a bottle for your sweetheart as a keepsake that will surely last forever. Get your romantic and sentimental gift now!
Unique And Unusual Gifts
Looking for unorthodox gifts that will amuse him? Choose from categories such as gifts for the person who has everything, gifts for the inner child or even gifts for geeks to get the most unusual gift he will ever receive.
(Read Related : Romantic Gifts for Her)
Shavers And Aftershaves
Every guy needs to shave but at the same time finds it a chore. Since he is going to do it practically everyday, why not get him a decent shaver so that he can be reminded of yuou while he gets down to his daily chore. Do remember to get him the aftershave which can help make him smell great for the whole day.
Valentine's Day Cards Or Simply Cards For Any Occasions
Love is in the air and you are sure to fall for Tiny Prints charming collection of Valentine's Day photo cards, Valentine's Day party invitations, Valentine's Day kids' cards and more! Pick a cute romantic photo card for the special one or spread your love with a card specially for Valentine's Day party invitations! Alternatively, you can find cards for any other occasions including birthdays, christmas, new year, thanksgiving and much more.

Reviews or comments on Romantic Gifts For Him